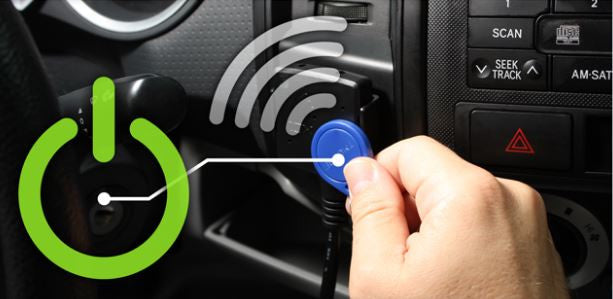 Geotab
Geotab SPR-RELAYKIT
---
The Geotab SPR-RELAYKIT provides controls for activating a relay directly from the GO device. A relay is an electromagnetic switch that uses a small electric current to control the flow (i.e. turn on/off) of a much larger electric current. The relay can be remotely enabled through MyGeotab and through the NFC Tag Driver Identification device. 
Using the NFC Tag Reader and Relay in conjunction allows access to certain key features of a vehicle, making it a powerful tool for accountability and safety. If you want to add multiple IOX capabilities to your GO device, you can daisy-chain up to four components together, much like a power extension plugged into another power extension, and so on. In the case of daisy-chaining, the NFC Tag Reader has to be the first in the array. Since the Relay can essentially inhibit current flow (i.e. act as an open circuit until a key fob is tapped), access can be inhibited to various components of a vehicle. If installed correctly, access to a switch, light, PTO, or other input can be restricted.
This product requires professional installation by a licensed automotive electrician/mechanic.
GO Devices supported: GO5, GO6 ,GO7, and GO8
---
Share this Product
---
More from this collection